Not only Infor M3
Supporting business processes.
% of time to market reduction
ERP ecosystem
Infor OS – Operating Service
As an Infor partner, we see that Infor has grown significantly in the past decade with a focus on industry specific SaaS solutions via Infor CloudSuite, numerous strategic acquisitions, and organic growth of its existing technologies. One essential piece to the company's success and innovation is its foundational cloud
platform, Infor OS (Operating Service). Infor OS provides horizontal technology services across all of Infor's CloudSuites and extends into thirdparty solutions as well. The services range from essential, business-critical functionality to more advanced high tech capable of providing competitive advantages to the enterprise. iPCC specializes in delivering also Infor OS components to customers in Poland and abroad.
Infor OS is focused on bringing value to enterprise technology in the following areas:
1. Business process integration
Infor ION® & API Gateway
Infor ION (Intelligent Open Network) is the most mature service within the Infor OS platform and represents Infor's integration strategy for creating industry-specific solutions. ION allows for Infor and non-Infor applications to easily connect and share messages and transactions in common asynchronous forms with available mapping services. Users are also able to create monitors and workflows on events that lead to distributed tasks, notifications, and even complete automation. The user experience is designed for citizen developers with easy-to-use modelers for system administrators. Infor ION is also used as the modeling service for data ingestion into the Infor Data Lake so that the experience of integration and mapping maintains consistency across the entire footprint.
Synchronous integration patterns are also available in Infor OS through the API Gateway. Similar to the history of ION, the API Gateway has a mature history with over 50 billion API calls within our current multi-tenant footprint. Infor applications register their APIs and documentation with a single catalog with common security and policy management for proper control of the ecosystem.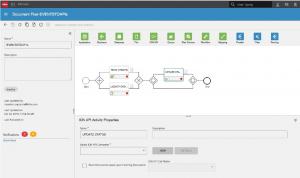 Advanced capabilities include the ability to create complex orchestrations and chaining of APIs with a similar modeling approach as ION connections and workflows. Users also can call registered APIs in ION's modeling services to
effectively meet complex business process integration needs where asynchronous and synchronous worlds combine.The API Gateway serves a foundational role for innovation as well, which includes being the backbone for the approach to extensibility in the cloud and customized innovative user experiences. Third-party APIs and documentation can also be registered and secured through the API Gateway, meaning the functionality is not exclusive to Infor products.
2. Security
Infor OS provides world-class security services through its Federation Services to authenticate, authorize, and regulate users, APIs, and more. The security services use SAML 2.0 standards for authentication and can integrate Infor CloudSuite with a federated identity provider (3rd party) of the customer's choosing. Infor OS on-premises is now packaged with Infor STS (Security Token Service) to allow on-premises customers to integrate on-premises Infor applications with various identity providers in addition to Microsoft AD FS. Infor OS Federation Services provides the ability to create and handle single sign-on across applications, provides user role and attribute management as it relates to access, grants role management of all users, and orchestrates the capabilities of consistent mobile app access across more than 2 million current users in production environments.
3. Data management
Infor Data Lake
Infor OS provides the ability to efficiently manage enterprise big data consistently with the Infor Data Lake for cost-effective multi-consumption, allowing for more progressive innovation with advanced analytics and AI. Infor applications replicate their data automatically to the Data Lake through ION services, and streaming APIs are also available to ingest third-party data into the Data Lake as well. The Data Lake comes with a data catalog to register metadata and format to maintain data integrity as well as other services to query data in the admin user interface (UI) with a query editor or via APIs. Users can save common or complex queries and publish as an API, or transfer data for a variety of use cases, such as loads related to BI and analytics with a utility available for classic ETL (extract, transform, load) scenarios. The Data Lake can play a vital role in innovation, providing a data repository for extended applications, data analysis, machine learning, and advanced compliance. The Data Lake, among the other core Infor OS components, is certified for Health Insurance Portability and Accountability Act (HIPAA) and General Data Protection Regulation (GDPR) compliance.
4. Document management
Infor Document Management is another business-critical feature in Infor OS. Document Management provides centralized storage of business documents in a format that's conducive to the in-context feature functionality of Infor OS. Documents are tagged with a variety of attributes (standard and custom) where related documents are established based on contextual relationships. Users can drag and drop documents into the "Related Information" context application and have them stored in Document Management automatically with the proper attributes attached based on the context of the event. Document Management also has output services as well, where documents can be designed and automatically created and distributed based on system activity. Options for optical character recognition (OCR) and automatic document ingestion are also available as an add-on to core functionality. The inbox is a consolidated view of all tasks, alerts, and notifications available for users through the main portal header. All activity is tied either to distributions configured in the ION desk as a result of monitors, workflows, and more, or users can receive notifications related to some activity with security services. Users can act on tasks and activity in the inbox or drill back directly to the matter in applications. These views are also offered as widgets for Homepages and in-context apps, and can be viewed and acted on in mobile scenarios as well.
5. Machine learning and Artificial intelligence
Infor Coleman and ML
Infor Coleman represents our AI product suite and comprises natural language processing (NLP) and machine learning solutions that are tightly connected with the Infor OS platform. Infor Coleman can help with executing tasks in innovative ways, recommend next-best actions, and even predict potential issues and adjust systems accordingly. Named after the inspiring physicist and mathematician Katherine Coleman Johnson, whose trail-blazing work helped NASA land on the moon, Coleman represents a leap forward for practical and fast implementation of enterprise artificial intelligence at scale.
Key features:
A single space for all of a company's machine learning projects, including Infor and third-party data.
Seamlessly integrate machine learning insights with existing business logic and custom applications, the catalyst for a more intelligent CloudSuite.
Spin up new projects faster than ever by combining custom data with Infor's industry-specific templates—enabling project implementation time in weeks, not months.
A visual drag-and-drop interface that puts the power of AI into the hands of more business users
6. Cloud extensibility
Infor Mongoose
With the Infor OS extensibility platform called Infor Mongoose, organizations can build their own applications, mobile apps, and extensions that are optimized for use via desktop, tablet, or smartphone. The platform is fully integrated with all Infor OS services and allows users to build and deploy extensions all in the cloud.
Customers can rapidly develop robust enterprise capabilities based on enterprise needs. Whether they need an intuitive consumer-grade web interface or a high-productivity form, Mongoose can help create the right experience with minimal coding. Producing feature-rich applications that are automatically upgradeable and deployable on-premises or in the cloud, Mongoose is a low-cost, unified development platform.
Key features of Infor Mongoose:
Build high-end consumer User Interfaces
Custom enterprise portals
Full user control and security
Browser-based development and deployment
Multilingual development and application functionality
No code/low code/full code options
Do you have any questions about the ERP ecosystem?